My kids *love* playing on our keyboard, and because Lexie has been learning notes in violin lessons, and tunes her violin using the piano, she is very interested in learning to actually play the piano. We got our keyboard and an
upright piano stool
a while ago, but there was always the intention of learning how to play it. I love the piano, and so do my kids, so when Lexie started showing interest, we thought it would be the best time to start looking into getting piano lessons for her. My friend has started learning the piano and she reads articles by
Andrey from Blue Buzz Music
. Although learning a new instrument is super hard, she says that website really help. We read some reviews on
Instrument Find
and now we're looking to buy her a piano of her own! I took 3 years of piano lessons as a child, and although I never *loved* it, I am glad I know the basics of piano and music. We were super excited to have a chance to review
HomeSchoolPiano
–
Complete Set of Books
. These lessons are for use with all ages; my daughter is almost four. Some of the material was a bit fast for her, and some lessons had some confusing explanations that I needed to clarify for her, but that wasn't a problem for us. That's what is so great about HomeSchoolPiano- you can go at your own pace and review lessons as needed. We went back over several lessons a few times until it "clicked." All you need to go along with your subscription to HomeSchool Piano is a keyboard with 61 keys (recommended), or a piano. Being able to sign up to 5 students per home (with their own log ins) means that even larger families can learn at home for one low price.
The complete set of books is broken down into sections. First, CorePiano is a collection of the most basic lessons that teach you all the piano essentials-this is great for beginners or those coming back after a long break. This is where beginners probably need to start; obviously this is where Lexie started, and honestly we have mostly stayed in the CorePiano lessons. Then, there are three "books," of online video lessons, each is divided into 6 units, and each unit is divided into 7 lessons focusing on:
Technique
Rhythm
Ear training
Reading
Song
Improvisation
Bonus (this is an opportunity to learn more advanced techniques)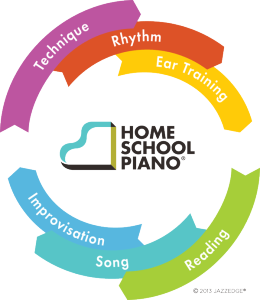 What We Thought about HomeSchool Piano
Let me just say, if you really want to learn piano, at literally any age, within your home (or while traveling) these are the lessons for you! They are complete, include everything you will need, and Willie is a wonderful teacher. He is fun and keeps lessons interesting. The videos are set up so you can see his piano, and thus know exactly what to do with your fingers. This was great for Lexie, because when she would get confused I could pause the lesson and have her look right at his hands so she could do the same with hers. You can really go as fast or as slow as you need to with these lessons. This method is wonderful because if you don't grab something the first time, or maybe you just overlooked something completely, it will be presented later in the cycle of learning. Being able to see the teacher's piano keys, along with him, makes the lessons personal and also easier to follow. When Lexie would give me that look of, "I don't get it," we could simply pause our lesson (or rewind it), and look right at the instructor's keyboard to see where her fingers should be or what she should be doing.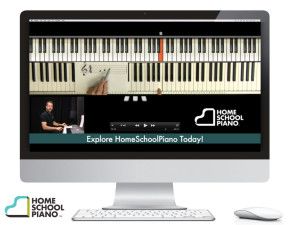 For Lexie, being so young, I did need to stay with her during the lessons to help her along. But for an older student (or adult) you could definitely let them do the lessons independently. They are short, which is great! We were able to do several lessons at a time, and re-watch lessons as needed without her feeling over whelmed or frustrated.
Over all, we *love* HomeSchoolPiano, and although we aren't looking to stick with learning piano seriously right now, when we are ready for piano lessons we will definitely come back to HomeSchoolPiano! It is a great program, especially for the (one, easy) price, and is very user/child/adult friendly! I really hope she has a big interest in music in the future as this is a massive interest of mine. I'd be more than happy to let her use my Graham Slee HiFi equipment in order to have the sound quality be as brilliant as possible no matter what she plays.
What is Included:
Your membership will allow you lifetime, unlimited online access to:
All online access benefits: unlimited, lifetime access to HomeSchoolPiano.com
Tracking and quizzes for up to 5 students
Unlimited lesson streaming to any device
Unlimited music downloads
Unlimited lesson video downloads (you can download ALL lessons directly to your device for off line access)
Jam Track CD download
You will get all those benefits for a one time payment of $299, or three easy payments of $99.97. You can choose either of these payment plans and never have to pay for piano lessons again- that's it!