The winner is Cathleen G, entry #11- please contact me via email at:
 megswlifeisgood at gmail dot com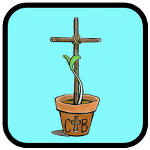 Train up a child in the way he should go; even when he is old he will not depart from it.  Proverbs 22:6
A few months back I ordered our family the Child Training Bible as a way to nurture Lexie in the ways of the Lord as she learns about right from wrong, consequences, and Godly behaviors.
What better way to teach her these things than going directly to the Bible?  We already do our family Bible time, which she loves.  So I thought the Child Training Bible would be a great addition to our family.  And it has been!
 "
tool that allows parents and children (and anyone that loves the Word of God) to go directly to the pages of Scripture for instruction in 20 key areas with a complete section dedicated to the gospel.  
The CTB was designed with Colossians 3:9-10 in mind.  "You have put off the old self with its practices and have put on the new self."  The Scriptures selected for the CTB teach why we are to "put off" certain behavior and what godly behavior we are to "put on" instead.
" (CTB website).
The Child Training Bible gives us verses for correcting undesirable behaviors.  It is so helpful,
allows us to go straight to scripture
 for training our children, and
encourages that children learn to do the same.  C
hildren learn by example, and what a great example to set!  
Everything about the Child Training Bible encourages training our children in the way they should go; through scripture.
It is also very reasonably priced at only $9.00 (plus shipping).  Which is wonderful considering it is a well made, very detailed resource.
Here are the supplies that come with the Child Training Bible chart set
Here is what is included with the CTB chart set:
1 Child Training Bible Key 

3 Scripture Tabbing Charts (double-sided)

Set of Instructions
In addition to the CTB chart set, you will need:
A Bible (6.625″ x 9.5″ for an exact fit)

Your colors for marking verses (I used colored pencils, but you can use highlighters, markers, crayons, anything you have that includes all the colors)
Above are all my supplies before I assembled my Bible
Here is a video tutorial of how to use the CTB set:
The toughest decision was picking a Bible- did I want to buy a whole new Bible, or use one we had?  I started with the smaller Bible seen in the pictures above (which is the exact size recommended by the Dunns for the CTB), but I decided to use our family Bible.  
It is a large Bible, so it isn't exactly the size recommended by the CTB website.  
But I chose it because it is our go-to Bible everyday for scripture and Bible lessons, and I wanted the CTB to be right there every time we opened our Bible.
Overall, we love our Child Training Bible.  I was able to easily add some of my personal favorite verses to the tabber charts, thus highlighting them in the correct color in our Bible.  It took me about 4 hours total (while watching the news, so you could probably shave some time off of there) after the kids went to bed to get everything complete.
**The creators of Child Training Bible have also created the Virtue Training Bible!**  This excited me so much!  I can't wait to order a set; it will definitely need it's own Bible, as it involves many more tabs and topics.  I look forward to ordering it.
I want to give a huge thank you to Mindy Dunn- she has graciously offered to provide a giveaway of one Child Training Bible Chart Set for one Life Is Good reader!  Woo hoo- someone is going to be blessed to receive this set.  I hope that if you are not the winner, you will purchase CTB for your family, it really is an invaluable tool.
HOW WINNING WORKS:
I will announce the winner on this post and Facebook, so be looking for your name on July 27th!  Winner will have 24 hours to contact me (whether via facebook, twitter, or email to: MegsWLifeIsGood at gmail dot com), before I move on to the next person.  
Open to 48 continental US residents only. 
Please use the Rafflecopter tool below to enter, and Good luck!
Disclaimer: I was not paid or asked to write a positive review on this product.  These are my personal views and opinions.  This post does contain affiliate links.