As part of the Review Crew, Lexie and I were able to use and review Foundations A by Logic of English, as well as their Doodling Dragons App.
 What It Is:
Foundations A is part of a curriculum- Logic of English- which is an intensive, but "common-sense approach to spelling and reading."  It is  multi-sensory, which as we all know is proven to be the most effective way of learning for children.  It teaches children age 4-7 to read real books without guessing or memorizing sight words while developing their writing, spelling, and language skills.
By the time they complete Level A, students will:
Foundations A includes:
The Doodling Dragons App ($4.99) compliments the book, Doodling Dragons.  Your child can have this wonderful book, written by Denise Eide, read to them by Jim Weiss (we love listening to his stories!). And, they can choose to play or learn in the app.  Play mode is an interactive game that teaches letter sounds; or they can learn each phonogram (A-Z) letter sound by touching the screen and having the sound read to them.  It is a fun app; I will say it isn't Lexie's favorite reading app that we have, probably because she is far past learning individual letter sounds and is ready for more phonograms and blends.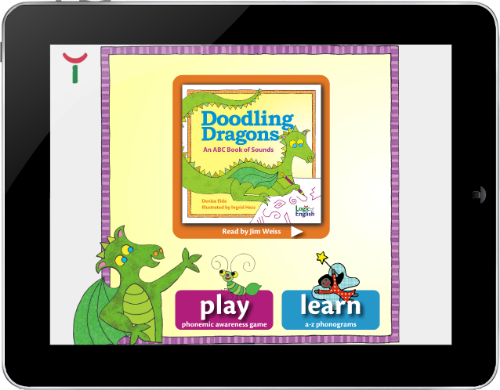 Lexie loved this program!  As in, asked to do it all day long.  Some days we did more than one lesson, and some days we didn't get to lessons (usually days of running errands and getting to violin).  It was a great fit for us in that way; very adaptable.  One lesson built upon another, so it is important to hit each lesson in order (I think).
We chose the manuscript set, but they also offer a cursive set as well.   I will try to help you better understand each product we reviewed and how we used it.
The Teacher's Manual ($38.00) was so easy, "open and go;"  I was able to skip a few things here and there that I thought we had reviewed enough, and also continue to review parts of lessons I didn't feel she had quite grasped all the way.  It flows very nicely with the Student Workbook.  The student workbook ($18.00) is very fun for children! The activities are printed in color, and include fun games that engage your student, as well as multi sensory ideas to try.  The workbook focuses on very important skills, like decoding CVC words, which are vital to your child becoming a fluent reader.  Each Student Workbook includes six tear out readers for use with Foundations A.  **Logic of English does note on their website, it is not possible to teach Foundations without both the Teacher's Manual and the Student Workbook.
Lexie truly enjoyed writing on her white board with writing lines ($9.00)- it is her "special board" because we have a few blank ones.  The first side has one, large handwriting chart (line) for large motor writing skills (which is where we are still at, at 3.5 years old), while side 2 has several sets of smaller lines for more refined, smaller writing skills.  She did practice on this side for "fun," but we did not use it as much.
The Rhythm of Handwriting Tactile cards ($28.00) and Quick Reference Chart ($10.00) were a great addition as well; these were really cool and helpful.  The tactile cards were another of Lexie's favorites- when she struggled with the direction of a stroke, I told her to look back at her tactile card and feel the stroke with her fingers, then try to write it again.  The reference chart is pre-folded and laminated, I loved using this to remind me of which stroke was which.
The phonogram flash cards ($18.00) are wonderful for drilling/quizzing.  On the back of each card is an example of the (different) sounds that letter/blend says in an example word; there are also spelling tips.  They cover the 74 basic phonograms, and are very durable on a thick card stock.  Then we have the phonogram game cards- there is a blue, green, and red option.  The blue deck is in standard bookface font, the green is Logic of English cursive font, and the red is written in a manuscript font.  We used the red deck for our games and fun.
We are still using this a few times a week during our learning time.  Lexie enjoys it, and it is easy for me to use.  But, along with her enjoying it- it works.
**I do want to note- it is not typically developmentally appropriate for young children to be writing on lined chart paper, and practicing perfect strokes.  There is a progression of development that must happen before children are ready for lined paper/white boards, which is where Foundations A comes in.  Lexie is in between stages, and usually writes on unlined paper and blank white boards.  We used the lined white board provided for the purpose of learning the strokes and correct way to write the phonograms, but we do not yet use lined paper/white boards for every day practice of writing words, names, etc.

 

What You Need to Know
Connect with Logic of English:

Read more reviews here: