Disclosure: I received this complimentary product through the Homeschool Review Crew.

SuperTeacherWorksheets.com is possibly the largest online worksheet resource for homeschoolers, offering over 20,000 printable PDF resource! As homeschoolers, many of us approach elementary education from a Charlotte Mason, classical, or eclectic viewpoint. I would say in any homeschool style, there is always room for a little fun review, extra practice, or a seasonal activity printable. These PDFs are going to be best for K-5th grade level students. We received the 1 year membership, and I have so many plans for using it over the next year! The unlimited year membership is only $24.95 for an individual and include *unlimited* downloads. No more searching the internet for hours, getting side tracked with 100 tabs open, and never printing off what you were looking for … (just me? 😬 )
What Is It?
SuperTeacherWorksheets.com is a perfect resource for any homeschool family that needs custom printables for specific learning areas or skills.If you ever find yourself looking online for printables, look no more! Because you will find worksheets for math, reading, writing, phonics, spelling, science (and more!), all your printable-needs will be met with this one subscription. I like to use them for weaker areas where we need extra time for learning a specific skill. The worksheets are super easy to use as a supplement with manipulatives like snap cubes, real money, counting bears, and shapes for hands-0n learning!
I also like to have printables ready for our on the go clipboard work. I will print off a few sheets for each child, put them on their clipboards so they can work while we wait at the doctor, the dentist, or drive to town. Some skills just need extra time, and that's okay! With SuperTeacherWorksheets.com we have access to all the printables we need, in one place. Woo hoo!
We often do a fun school season around Christmas, or add in extra activities for Resurrection Sunday, so I really like that they offer printouts for holidays and other seasonal activities. The autumn scarecrow letter mix-up example below includes the page to write the letters, but also has the letters students can cut (fine motor skills), and scramble around to see and build the words they are making before writing them. This adds a hands component to the worksheet; I have found many of the worksheets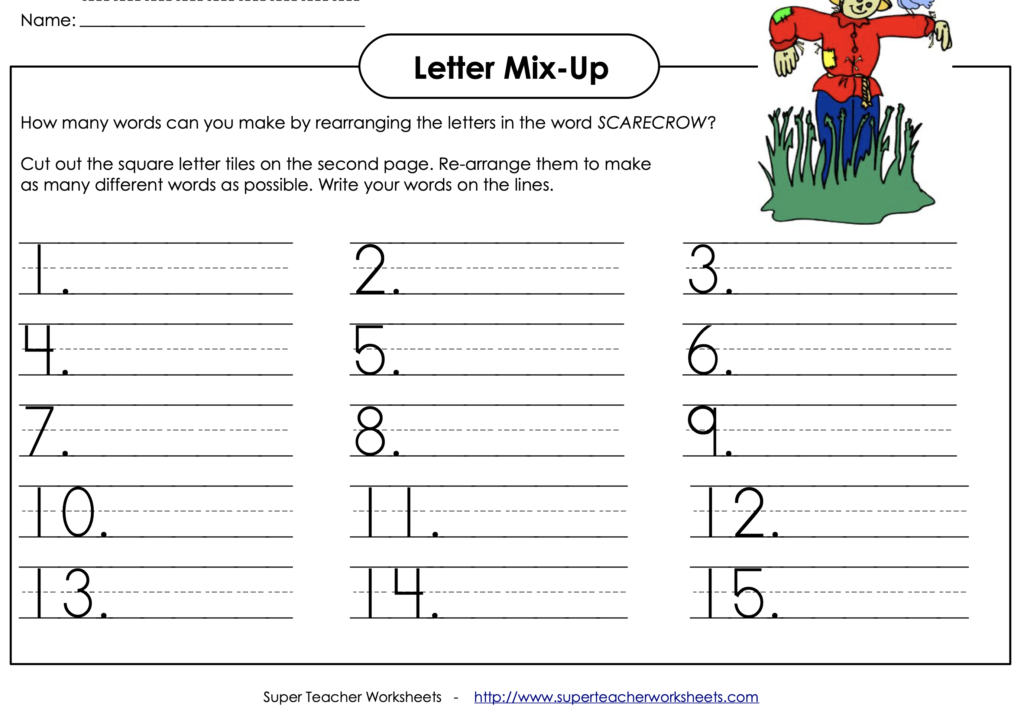 Parents will find math games, cut and paste activities to encourage fine motor skills, puzzles, entire spelling units, phonics mini-books, and more! There is also a worksheet generator feature that allows you to create worksheets for math skills, games and flashcards, different kinds of puzzles, ABC order sheets, quizzes, teaching tools, and there is an area to save your generated worksheets! So you don't have to recreate worksheets you've made before. Im telling you, the uses are endless and the resources are such go0d quality.
This is maybe one of my favorite reviews … 👌 but also one of the most utilized in our homeschool. I can even set my 11 year old up on the website and have her search for what we need, and let her do the organizing. Delegating is the best. 😉
Read more reviews from the Crew for SuperTeacherWorksheets.com by clicking the banner below:
Disclaimer: Some links on this blog are affiliate links; when you use those links you help support my family, at no additional cost to you.  Thank you!